Funicular Diana
Access Diana comfortably and directly from town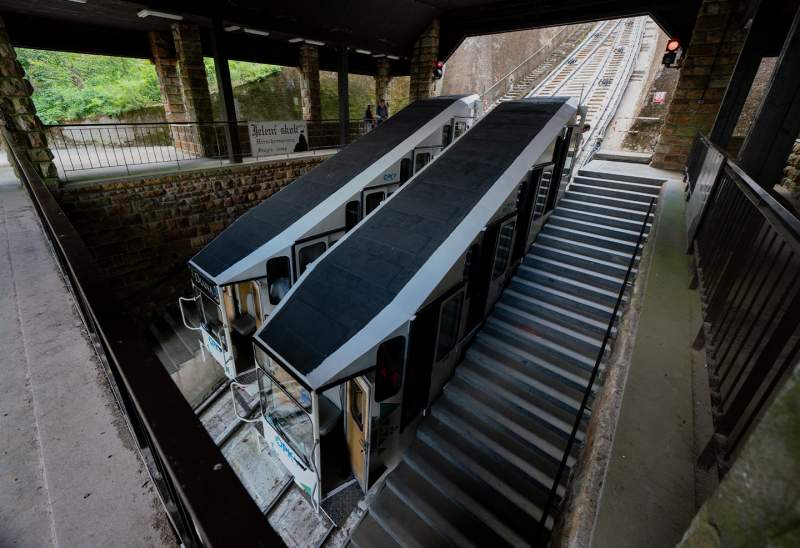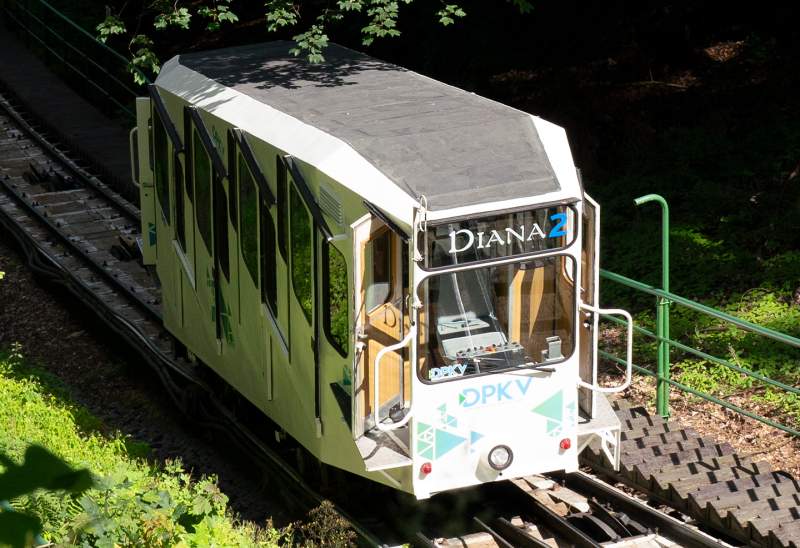 The lower station of the funicular is located in Mariánská Street, right next to famous Grandhotel Pupp. From here, this rail funicular will take you directly to the enchantingly beautiful environment under the Diana Lookout Tower every fifteen minutes.
In the approximately five-minute ride through the spa forest, you will overcome a height difference of 167 metres, and attractive views of the slowly receding town below will already open up before you. 
The Lookout Tower, the restaurant, the Butterfly House, and the other attractions of the Diana Excursion Grounds are all located just several dozens of metres from the upper station.
The fare can be paid in cash (only CZK) or by payment card.
The lower station next
to Grandhotel PUPP
Departure every
15 minutes

Arrival directly to 
the Diana grounds
Plan a trip to Diana - all practical information in one spot
Operating hours
January - March
09:00 - 17:00
May - September
09:00 - 19:00
November - December
Today
09:00 - 17:00
Exceptions
The funicular operates every 15 minutes
Funicular Pricelist
One way ticket
Return ticket
Persons aged 15 years and over
100 CZK
150 CZK
Children from 6 to 15 years
50 CZK
80 CZK
Family ticket (2 adults + 2 children)
200 CZK
400 CZK
Group member (from 10 passengers)
90 CZK
130 CZK
Children 6-15 years group member (from 10 passengers)
40 CZK
70 CZK
Disability card holders (ZTP and ZTP/P)
50 CZK
80 CZK
Dog
60 CZK
80 CZK
Bicycle
90 CZK
120 CZK
Baby-carriage
free admission
Holders of the Karlovy Vary Card and the Vary Virtual app with a valid annual voucher
discount 50%
DIANA Observation Tower
free admission
Payment options?
The fare can be paid in cash (only CZK) or by payment card.
Is the funicular wheelchair accessible?
Unfortunately, you will need assistance to overcome several steps in the funicular stations.
Transport of pets, bicycles, and prams?
You can transport dogs and bicycles on the funicular for a fee (see the table with prices), prams are transported free of charge.
What is the funicular timetable on holidays?
The same as on other days, i.e., every 15 minutes during the whole time of operations. In the event of more travellers, the interval between rides can be even shorter.
HOW TO ACCESS THE FUNICULAR
How to access the funicular and where to park
A BEAUTIFUL WALK
Access Diana by a walk through the spa forests
You can also reach Diana by taking a beautiful walk through the spa forests, where you can observe wild boars, fallow deer, and the like in the game enclosure.
Many trails lead to Diana; for instance, you can discover the oldest settlement in Karlovy Vary, you can take the fun educational trail, and you will see many gazebos and vistas on your way.
Or you can take the funicular up to Diana and then see everything on your walk down :-)